A new year often brings predictions on what trends you can expect to see in the coming year. One trend on market researcher's 2022 prediction list is Social Listening.  Social listening is predicted to grow as a research approach to gain insight on customer behaviors.
Related:     6 Market Research Trends to Watch in 2022
Predicted Market Research Trends for 2022
2022: The Year of the Market Research Study
What is Social Listening?
Social listening is the process of monitoring unsolicited online conversations and interactions happening in the digital space, not just around your brand, but also within your industry. You can track specific keywords, topics, and phrases in real time and over time.
The objective is to utilize the largest unbiased "focus group" of consumers to gain unprompted insights to answer questions about customer perceptions and behaviors. You can gain a deeper understanding of customer needs, likes, dislikes, and preferences.
Related:     Brand24 Video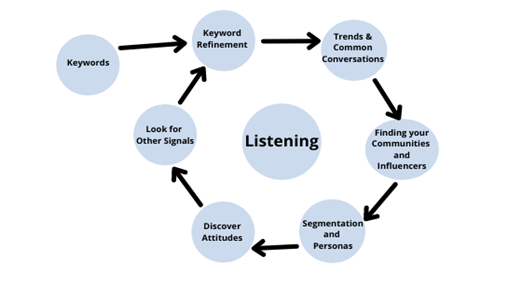 Related:  Diagram
The COVID-19 pandemic has had a huge impact on all of us and changed the way most of us do things day to day. It slowed us down, shut doors, and asked a social society to limit contact with others.
And like in most situations, we all found ways to adapt to our new "normal".
People around the world of all ages took to the internet to stay connected,  to find up to date information, to discover reliable news sources, and to utilize social platforms to express themselves.  Currently, there are about 4.88 billion global internet users spending an average of 2-hours and 27-minutes per day engaged on social media.
Social media platforms like Facebook continue to gain users and are growing. Globally 2.91 billion people actively use Facebook every month with a projected 6% increase year-to-year. People rely on social media platforms to provide information on products and services. According to Statusbrew, 45% of internet users research products on social media before making a purchase decision.
During these trying times, companies still need to stay relevant and find ways to engage with their audience. How do you reach people to gain insights during a time that in-person focus groups are almost nonexistent?
Marketers turned to Social Listening to aid in finding insights to help brands develop market strategies to meet their consumers' needs.
How can Researchers Use this Tool?
Industry insights
Competition analysis
Sentiment/perception analysis (Brand health)
Crisis Management
Identify areas of opportunity
Identify product opportunities
Measure social impact of campaigns and influencer marketing
Trend tracking (audience analysis)
Event Monitoring
Related:  Your launchpad to success on social media
The Benefits of Social Listening:
Social Listening allows brands to respond rapidly to changing consumer behaviors.
Traditional research methods such as focus groups and surveys take time to gather insights. Social listening allows you to operate in real time to respond to the rapidly changing market.
Social listening provides a snapshot of a wider, unbiased audience sample.
Traditional market research methods use small groups of people to complete surveys, focus groups, and in-depth interviews to express their opinions in a controlled setting.
Using social listening as a research tool allows you to find an audience in the right environment at the right time. Often the audience is more relaxed, less guarded, and more willing to express their honest opinions.
 A single post can lead to hundreds of open unfiltered conversations. You can gain a deeper understanding of your audience and their true feelings towards your brand, product, or the consumers' problems.
Social Listening is always on.
You are able to continuously track the information you want and not just when your business is tagged or mentioned. Since it is always on, always monitoring, it's easier to track data over time and is collected instantly.
Social Listening is cost effective.
The resources needed to gain insights are less costly when compared to traditional research methods. Social listening tracking can lead more easily and readily to changing course objectives.
Therefore, social media reports can be a fraction of the cost of conventional research methods.
Can You Replace Traditional Quantitative/Qualitative Research Methodologies with Social Listening?
The short answer is NO.
Social listening should be used in combination with other quantitative and qualitative methodologies. This will allow for an even more robust view or understanding to your questions or problems.
Quantitative Methodology: Collect and analyze numerical data. It is generally used to find patterns, cause and effect relationships, and predictions between different variables.
Qualitative Methodology: Collection and analysis of existing texts. Qualitative data tends to answer questions about what, how, why and identify trends.
Social listening can be added as a tool for normal data gathering practices to support traditional research.  Using social listening as a tool will allow you to remain agile in responding to rapid market changes.
Information gained through social listening is a great starting point for developing more targeted in- depth research projects. Quantitative and qualitative methodologies can verify your social listening insights. The unprompted information found on social media platforms can now be a current baseline used to create surveys, interview questionnaires, and focus group criteria to gather more solicited feedback.
Conclusion:
Overall, social listening is a reliable tool to help gain deeper insight about the consumer to make better marketing strategy decisions. Millions of consumers are sharing their opinions and experiences daily on social media. So why not track what they are saying about your brand or product?
During the pandemic, social listening was used by about 50% of brand marketers. It is estimated that about 63% of social media marketers believe over the next year it will become more important.
Since social media is here to stay, it is a good idea to add social listening to your arsenal of research methodologies. It allows you to isolate social conversations, determine problems, monitor perceptions, and gain insights in a rapidly changing environment. Social listening used in conjunction with traditional methods will enable you to make the best marketing decisions.
Social listening is a 2022 trend we should embrace!