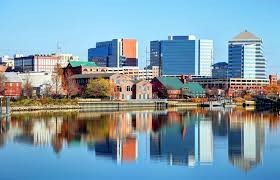 Eastcoast Research provides mock jury recruiting and management in Wilmington, DE.
Introduction to Wilmington, DE
As of 2016, over 1 million business – more than 50% of publicly traded companies in the U.S. and more than 60% of Fortune 500 companies – are incorporated in Delaware. The State's courts, tax system, laws and policies have made it an attractive state for business to incorporate.
However, when litigation occurs the court cases take place in the city where the company is incorporated: Delaware.
What is a Mock Jury?
The term "mock jury" refers to research that allows lawyers to evaluate the potential reactions of jurors to their evidence and arguments before a case goes to trial. Additional benefits for a mock jury include juror selection, execution of oral presentations, evaluation of case themes and argumentative journeys, and data used as a settlement tool.
Eastcoast Research had conducted mock trials as small as 12 respondents (referred to as legal focus groups) to large trials consisting over 50 respondents and 4 deliberation groups. Smaller groups may last up to 4 hours and larger groups may extend up to 3 full days.
Why Chose Eastcoast Research?
An appropriate panel with unbiased jurors is necessary to ensure firms receive accurate data. Eastcoast Research ensures all respondents are quality, articulate respondents with a diverse demographic reflecting the city of Wilmington. Our process begins with a thorough screening process and confirmation protocols to target a 95% show rate. All respondents are vetted, rescreened and validated prior to participating the day of the study.
Audio Visual needs during a mock jury trial are integral for the entire team. We make sure our clients have the most updated technology including presentation equipment, split-screen viewing for oral presentations, HD viewing of all deliberation groups, wireless headphones for private listening of each group and (becoming very popular) livestreaming services to allow clients to view without attending the groups.
Lastly, its important to have someone taking care of the logistical needs of the study. Eastcoast Research will be responsible for suitable facility selection, client and respondent food, room selection and flow, transportation and parking. We will also take care of all your onsite printing needs, office supplies, food and beverage requests, shipping and certified shredding needs.
Eastcoast Research has been conducting mock juries for clients across the US since 1972. Give us the opportunity to facilitate your next mock jury trial!